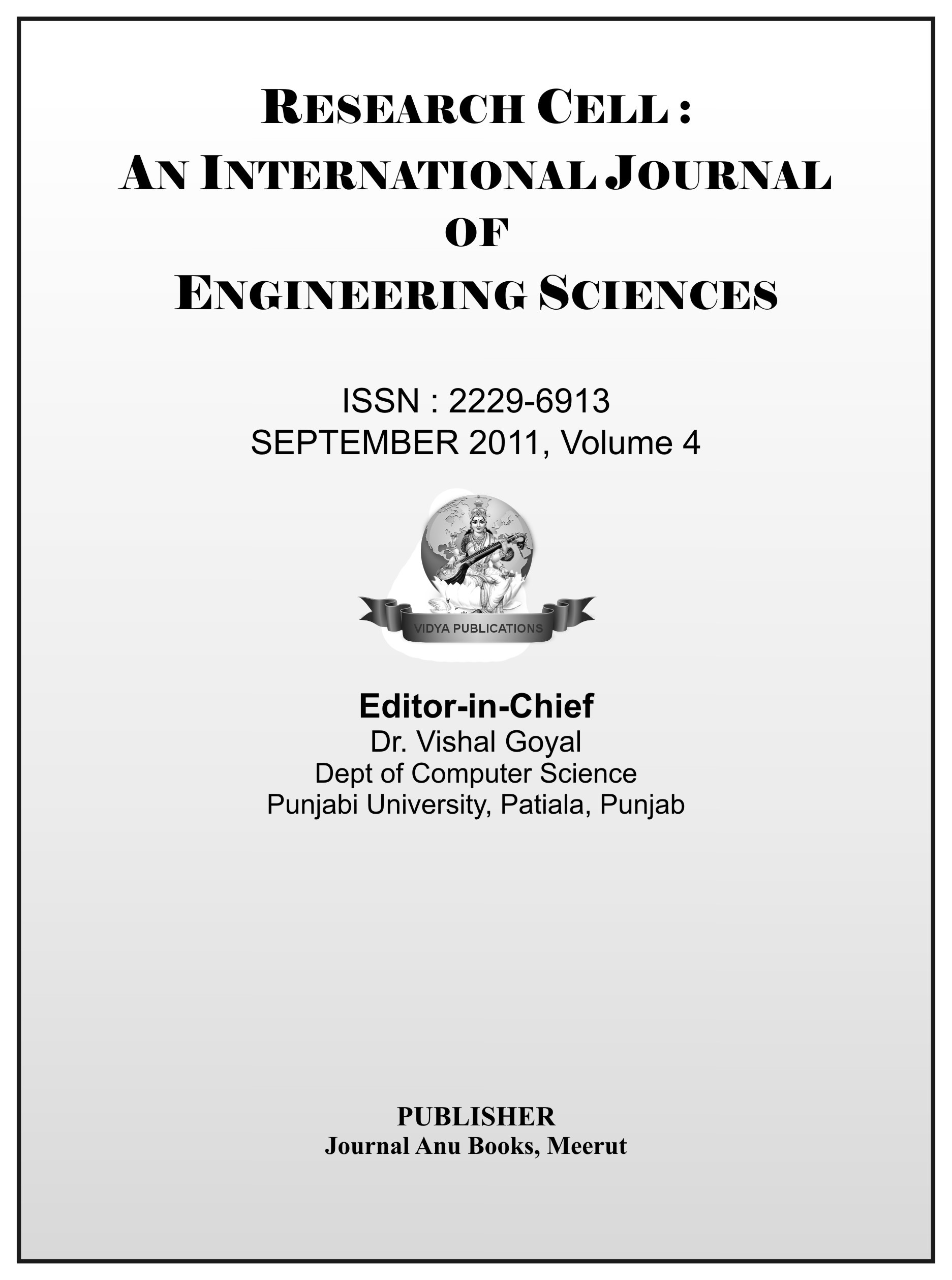 Research Cell:
An International Journal of Engineering Sciences
(ISSN: 2229-6913)(Print)
(ISSN: 2320-0332)(Online)


Editor-in-Chief
Dr. Vishal Goyal
Department of Computer Science,
Punjabi University Patiala, Punjab.
Research Papers being published for - Computer Science/I.T, Electronics and Mechanical Engineering Global Impact Factor (GIF) : 2.010
AIM OF THE JOURNAL
The main aim of the journal is to provide a platform to researchers from Engineering Streams (Computer / I.T., Mechanical and Electronics) to present their high quality research work and innovation in the form original, unpublished research paper.
Editor-in-Chief
Dr. Vishal Goyal
Department of Computer Science,
Punjabi University Patiala, Punjab.

Email:editor.ijoes@gmail.com,vishal.pup@gmail.com
Associate Editors
Dr. Ali Mohammed Sahan,Technical College of Management,Meddle Technical University,Baghdad-Iraq
dralimohammed2@gmail.com
Dr. Vijay K. Arora, Electrical Engineering Department, Division of Engineering and Physics, SLC237, Wilkes University,84 West South Street, Wilkes-Barre, PA 18766,U. S. A.
vijay.arora@wilkes.edu
Dr. Kanwal Gagneja,Southern Oregon University,Ashland, OR, USA
gagnejak@sou.edu, kanwal_gheek1@yahoo.com
Dr. Arvind Sen Sarkhandia,ES1030, University of Calgary,2500 University Dr. NW,Calgary, Alberta, Canada,T2N 1N4
assarkha@ucalgary.ca
Dr Surya Kant,Senior Scientist,Advance Research Division,Department of Primary Industries,110 Natimuk Road, Horsham,Victoria 3400 Australia,
skant4@rediffmail.com
Dr. Ajay Shiv Sharma, GNDEC Ludhiana

Dr. Vishal Gour, Govt. Engg. College, Bikaner, Rajasthan

Dr. Astha Pareek, THE IIS University, Jaipur, Rajasthan

Dr. Sonu Mittal, JNU, Jaipur, Rajasthan

Dr.Shubhnandan S. Jamwal, Jammu University, Jammu
jamwalsnj@gmail.com
Dr.Rajeev R R, IIITM-K
rajeev@iiitmk.ac.in
Dr. Arvind, Central University of Jammu, Jammu
arvind.cuj@gmail.com
Dr. Kanak Saxena ks.pub.2011@gmail.com
Dr. Manish Mahajan,Prof. and HOD, CSE CGC College of Engineering,Landran, Mohali, Punjab, India cec.manish@gmail.com
Prof. Jatinder Garg, Registrar, PIT, Hoshiarpur, (Constituent Institute of PTU, Jalandhar).
jatindergarg@yahoo.com
Mrs. Sonu Bala Garg, BHSBIET, Lehragaga.
sonugarg79@yahoo.com

News/Updates
ISSN Online version received. The Journal is now an Open Access Online Journal. All the papers are published online w.e.f. July 2013 free of cost.